Pemanfaatan WebGIS Pada Pemetaan Sebaran Layanan Kesehatan Kota Madiun
Juwari

Universitas PGRI Madiun

Pratiwi Susanti

Universitas PGRI Madiun

Moch. Yusuf Asyari

Universitas PGRI Madiun
Keywords:
Kesehatan Kota Madiun Pemetaan SIG Website
Abstract
Kota madiun merupakan kota terbesar ke 4 setelah surabaya, malang dan kediri dengan berbagai sarana dan prasarana bagi masyarakat untuk mendukung kota sehat. Hingga saat ini fasilitas kesehatan yang tersebar di wilayah kota madiun sudah dikelompokkan berdasarkan kelurahan dan kecamatan. Namun sebaran fasilitas kesehatan di seluruh wilayah kota madiun belum dipetakan secara visualisasi mengenai tata letak lokasi fasilitas layanan kesehatan pada kondisi sesungguhnya. Dengan adanya visualisasi pemetaan sebaran lokasi fasilitas kesehatan, dapat dimanfaatkan sebagai referensi bagi para pengguna dalam mencari dan mengetahui lokasi fasilitas kesehatan. Dalam mengimplementasikan sistem pemetaan dikerjakan dengan menggunakan Sistem  Informasi  Geografis (SIG). Sistem dapat mengelola,  memanipulasi,  dan  menggambarkan  data  berbasis spasial (keruangan) yang  dapat  dipergunakan  di  berbagai  bidang,  salah satunya   dibidang   kesehatan. SIG   dapat   dimanfaatkan untuk menilai ancaman serta sekaligus juga dapat dimanfaatkan untuk evaluasi dan pengawasan.
References
Y. Hartono, D. Phrasetyo, Y. Astutik, D. Sugiarti, and I. Permata Sari, "Perkembangan Kota Madiun Sebagai Kota Gadis Tahun 2000-2013," Agastya J. Sej. Dan Pembelajarannya, vol. 4, no. 02, p. 74, 2014, doi: 10.25273/ajsp.v4i02.829.
E. A. Joseph Dedy Irawan, "Jurnal MNEMONIC," Pemanfaat. Qr-Code Segabai Media Promosi Toko, vol. 1, no. 2, pp. 56–61, 2018.
E. D. Sari, "Aplikasi Sistem Informasi Geografis Tempat Pelayanan Kesehatan Di Kabupaten Bangka Selatan Berbasis Web," J. TI-Atma Luhur Pangkalpinang, pp. 1–31.
S. Zulkarnain, B. Sudarsono, and A. Nugraha, "Pemanfaatan Webgis Untuk Pemetaan Persebaran Spbu Di Kota Semarang," J. Geod. Undip, vol. 4, no. 3, pp. 19–25, 2015.
S. S. Adam, M. G. Rindarjono, and P. Karyanto, "Sistem Informasi Geografi untuk Zonasi Kerentanan Kebakaran Lahan dan Hutan di Kecamatan Malifut, Halmahera Utara," J. Teknol. Inf. dan Ilmu Komput., vol. 6, no. 5, p. 559, 2019, doi: 10.25126/jtiik.2019651674.
D. I. Puspitasari, Z. Zaenuddin, and F. Yuridka, "Sistem Informasi Geografi (SIG) Pencarian Lokasi Tambal Ban dengan Pemanfaatan Teknologi GPS," Elinvo (Electronics, Informatics, Vocat. Educ., vol. 4, no. 1, pp. 30–38, 2019, doi: 10.21831/elinvo.v4i1.23146.
F. Miao and Q. Yuan, "A WebGIS-based information system for monitoring and warning of geological disasters for Lanzhou City, China," Adv. Meteorol., vol. 2013, 2013, doi: 10.1155/2013/769270.
D. I. Puspitasari and M. Y. Kurniawan, "Location Based Services (LBS) for Searching Tire Repair Location in Banjarbaru City Based on Android," J. Fis. FLUX, vol. 1, no. 1, p. 77, 2019, doi: 10.20527/flux.v1i1.6150.
Z. Li, P. Li, M. Wu, and W. Wang, "Application of ArcGIS Pipeline Data Model and GIS in Digital Oil and Gas Pipeline," 2010 18th Int. Conf. Geoinformatics, pp. 1–5, 2010.
M. Ferdiansyah, "Sistem Informasi Geografis Pemetaan Klinik Bersalin Berbasis Web Gis (Studi Kasus: Kab. Pesawaran)," J. Cendikia, vol. 14, no. 2, pp. 1–7, 2017.
A. Bendib, D. Hadda, and K. Mahdi, "Application of Webgis in the development of interactive interface for urban management in Batna City," J. Eng. Technol. Res., vol. 8, no. 2, pp. 13–20, 2016, doi: 10.5897/JETR2015.0579.
S. Bahri, D. M. Midyanti, and R. Hidayati, "Pemanfaatan QGIS Untuk Pemetaan Fasilitas Layanan Masyarakat Di Kota Pontianak," CESS (Journal Comput. Eng. Syst. Sci., 2020, doi: 10.24114/cess.v5i1.15666.
C. Zhou et al., "COVID-19: Challenges to GIS with Big Data," Geogr. Sustain., 2020, doi: 10.1016/j.geosus.2020.03.005.
L. Duarte, A. C. Teodoro, M. Lobo, J. Viana, V. Pinheiro, and A. Freitas, "An open source GIS application for spatial assessment of health care quality indicators," ISPRS Int. J. Geo-Information, 2021, doi: 10.3390/ijgi10040264.
B. F. Khashoggi and A. Murad, "Issues of healthcare planning and GIS: A review," ISPRS International Journal of Geo-Information. 2020, doi: 10.3390/ijgi9060352.
H. Beze, Hamka, Yulianto, E. Nurmarini, and H. D. Salusu, "Implementasi SIG Untuk Monitoring Kesehatan Lingkungan Studi Kasus Kelurahan Harapan Baru," Bul. Poltanesa, 2021, doi: 10.51967/tanesa.v22i1.464.
I. M. Bello et al., "Use of geographic information systems web mapping application to support active case search to guide public health and social measures in the context of COVID-19 in Zimbabwe: A preliminary report to guide replication of methods in similar resource setting," Pan Afr. Med. J., 2021, doi: 10.11604/pamj.2021.38.159.27143.
M. Onida, M. Faravelli, A. Gotti, and D.Sarigiannis, "Communicating multi-hazard health risk through a web-GIS platform: A case-study," Fresenius Environ. Bull., 2019.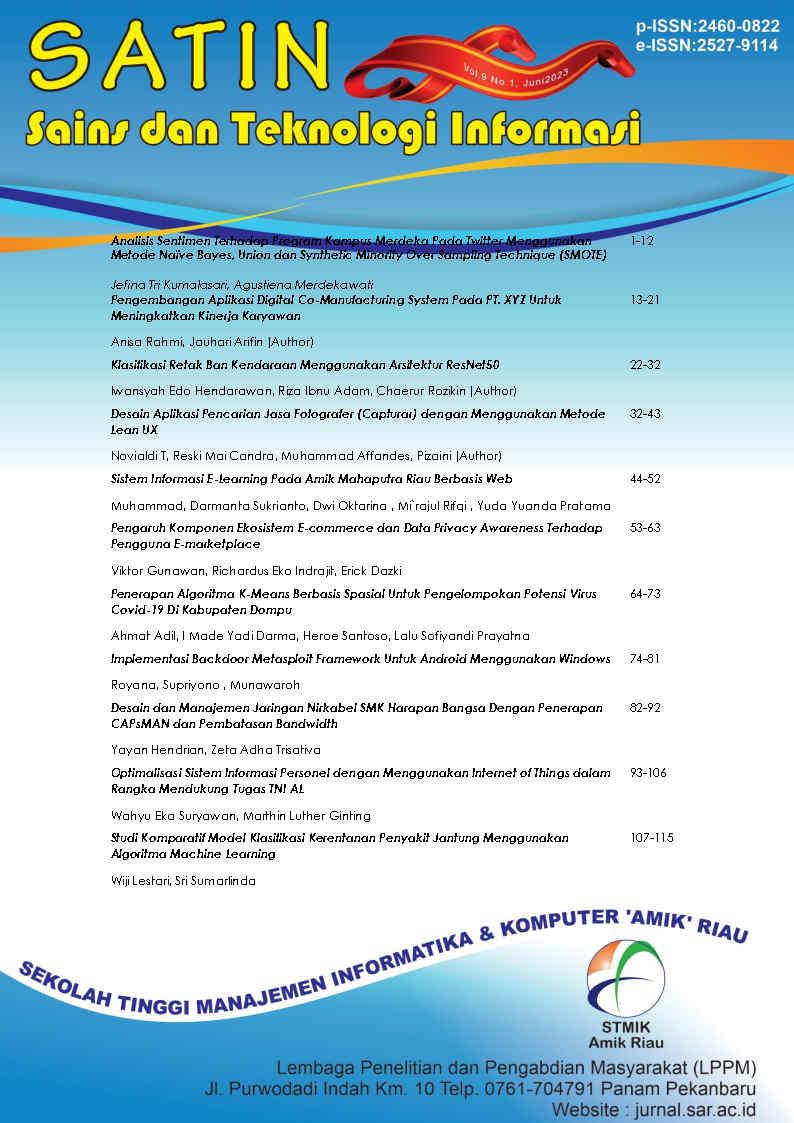 How to Cite
Juwari, Susanti, P., & Moch. Yusuf Asyari. (2023). Pemanfaatan WebGIS Pada Pemetaan Sebaran Layanan Kesehatan Kota Madiun. SATIN - Sains Dan Teknologi Informasi, 9(1), 190-198. https://doi.org/10.33372/stn.v9i1.958
Copyright (c) 2023 Juwari
This work is licensed under a Creative Commons Attribution 4.0 International License.