Desain dan Manajemen Jaringan Nirkabel SMK Harapan Bangsa Dengan Penerapan CAPsMAN dan Pembatasan Bandwidth
Yayan Hendrian

Universitas Bina Sarana Informatika

Zeta Adha Trisativa

Universitas Bina Sarana Informatika
Keywords:
CAPsMAN Mikrotik Wireless Router
Abstract
Desain jaringan komputer yang baik sangat berpengaruh dalam optimalisasi penggunaan jaringan komputer tersebut. Teknologi jaringan komputer yang banyak digunakan di SMK Harapan Bangsa berupa nirkabel atau wireless dengan koneksi jaringan ke seluruh pengguna dalam area disekitarnya yang dipancarkan oleh Access Point. Permasalahan timbul karena banyaknya access point yang terhubung ke jaringan namun tidak mampu menjangkau seluruh area pengguna jaringan komputer sehingga membuat administrator jaringan cukup kesulitan untuk mengontrol aktifitas pengguna khususnya ketika terjadi kendala pada pemancar yang berbeda ruangan bahkan berbeda gedung. Oleh karena itu diperlukan sebuah strategi dan metode khusus untuk menanganinya. Salah satu caranya dengan mendesain ulang jaringan nirkabel kemudian melengkapinya dengan fitur CAPsMAN dan pengaturan bandwidth. Selain itu ditambahkan pula fitur keamanan wireless hotspot untuk memberikan keamanan yang lebih dikarenakan user harus mempunyai akun untuk melakukan login sehingga tidak sembarang user dapat terkoneksi kedalam jaringan SMK Harapan Bangsa. Dalam rancangan usulan, Penulis mengganti perangkat router utama yaitu RB951Ui-2HnD menjadi RB3011UiAS-RM dan merubah jalur access point ruang guru menuju mikrotik RB3011UiAS-RM agar konfigurasi dapat lebih terpusat dengan tambahan konfigurasi CAPsMAN. Dengan penerapan tersebut dapat meningkatkan kinerja jaringan wireless SMK Harapan Bangsa.
References
Artawan, I. G. S., Santyadiputra, G. S., & Agustini, K. (2021). Optimasi Penataan Access Point Pada Jaringan Nirkabel Menggunakan Algoritma Simulated Annealing. Jurnal Pendidikan Teknologi Dan Kejuruan, 18(1), 32. Https://Doi.Org/10.23887/Jptk-Undiksha.V18i1.25668
Asteroid, K. M., & Hendrian, Y. (2016). Analisis Wireless Local Area Network (Wlan) Dan Perancangan Mac Address Filtering Menggunakan Mikrotik (Studi Kasus Pada Pt. Graha Prima Swara Jakarta). Jurnal Teknik Komputer Amik Bsi, Ii(2), 77–82. Https://Ejournal.Bsi.Ac.Id/Ejurnal/Index.Php/Jtk/Article/View/910
Gunawan, H., & Ghiffari, M. (2018). Pengelolaan Jaringan Dengan Router Mikrotik Untuk Meningkatkan Efektifitas Penggunaan Bandwith Internet (Studi Kasus Smk Ki Hajar Dewantoro Kota Tangerang). Jurnal Ilmu Komputer, 3(1), 54. Https://Ejurnal.Esaunggul.Ac.Id/Index.Php/Jik/Article/View/2483
Herwin, K. A. (2021). Penerapan Manajemen Bandwitdh Berdasarkan Pppoe Pada Pondok Pesantren Miftahul Huda. Satin (Sains Dan Teknologi Informasi), 7(2), 1–8. Https://Doi.Org/10.33372/Stn.V7i2.778
Kadir, A., & Tone, K. (2015). Analisa Kerja Access Point Jaringan Wireless Pada Universitas Al-Asyariah Mandar. Jurnal Ilmu Komputer Fikom Unasman, 1(1), 1–7. Https://Www.Neliti.Com/Id/Publications/283785/Analisa-Kerja-Access-Point-Jaringan-Wireles-Pada-Universitas-Al-Asyariah-Mandar
Lestari, I., & Permana, R. (2018). Analisis Sistem Jarkom Smk Pontianak. International Journal Of Natural Sciences And Engineering, Vol 2, No 3, 99–102. Https://Ejournal.Undiksha.Ac.Id/Index.Php/Ijnse
Mukti, F. S., & Sulistyo, D. A. (2018). Analisis Penempatan Access Point Pada Jaringan Wireless Lan Stmik Asia Malang Menggunakan One Slope Model. Jurnal Ilmiah Teknologi Informasi Asia, 13(1), 13. Https://Doi.Org/10.32815/Jitika.V13i1.304
Pratama, S. B., & Siregar Pahu, G. K. (2022). Manajemen Bandwidth Jaringan Wireless Local Area Network (Wlan) Pada Pt.Bpr Tata Arta Swadaya Kotagajah. 3(2), 64–73. Https://Scholar.Ummetro.Ac.Id/Index.Php/Jmsi/Article/Download/2152/1002/
Pratama, T. A. A. S. E. K., Leksono, I. N., & Anwar, R. S. (2019). Implementasi Hotspot Login Menggunakan Capsman Mikrotik Pada Wilayah Yang Berbeda. Journal Of Chemical Information And Modeling, 53(9), 1689–1699. Http://Www.Akrabjuara.Com/Index.Php/Akrabjuara/Article/View/460/383
Ramady, G. D., Hidayat, R., & Syafruddin, R. (2019). Perancangan Infrastruktur Jaringan Kampus Menggunakan Teknik Wireless Distribution System. 14(2), 51–55. Https://Www.Sttmandalabdg.Ac.Id/Ojs/Index.Php/Jit/Article/Download/157/137/
Ratnasari, S. D., Eni, F., & Firdaus, N. (2017). Implementasi Controller Access Point System Manager (Capsman) Dan Wireless Distribution System (Wds) Jaringan Wireless Di Smk Terpadu Al Ishlahiyah Singosari Malang. Seminar Nasional Sistem Informasi 2017 Fakultas Teknologi Informasi – Unmer Malang, 14 September, 624–635.
Subandri ; Mutaqin Subekti Zaenal. (2019). Rancang Bangun Wireless Access Point Dengan Capsman Dan Mac Mask Access List. Jurnal Informatika: Jurnal Pengembangan It (Jpit), 04, No.2(2), 195–200. Https://Doi.Org/10.30591/Jpit.V4i2-2.1878
Wahyat, & Teddyana, A. (2021). Satin-Sains Dan Teknologi Informasi Monitoring Jaringan Internet Menggunakan Notifikasi Bot Api Telegram. Sains Dan Teknologi Informasi, Vii, 144–145. Https://Doi.Org/10.33372/Stn.V7i1.713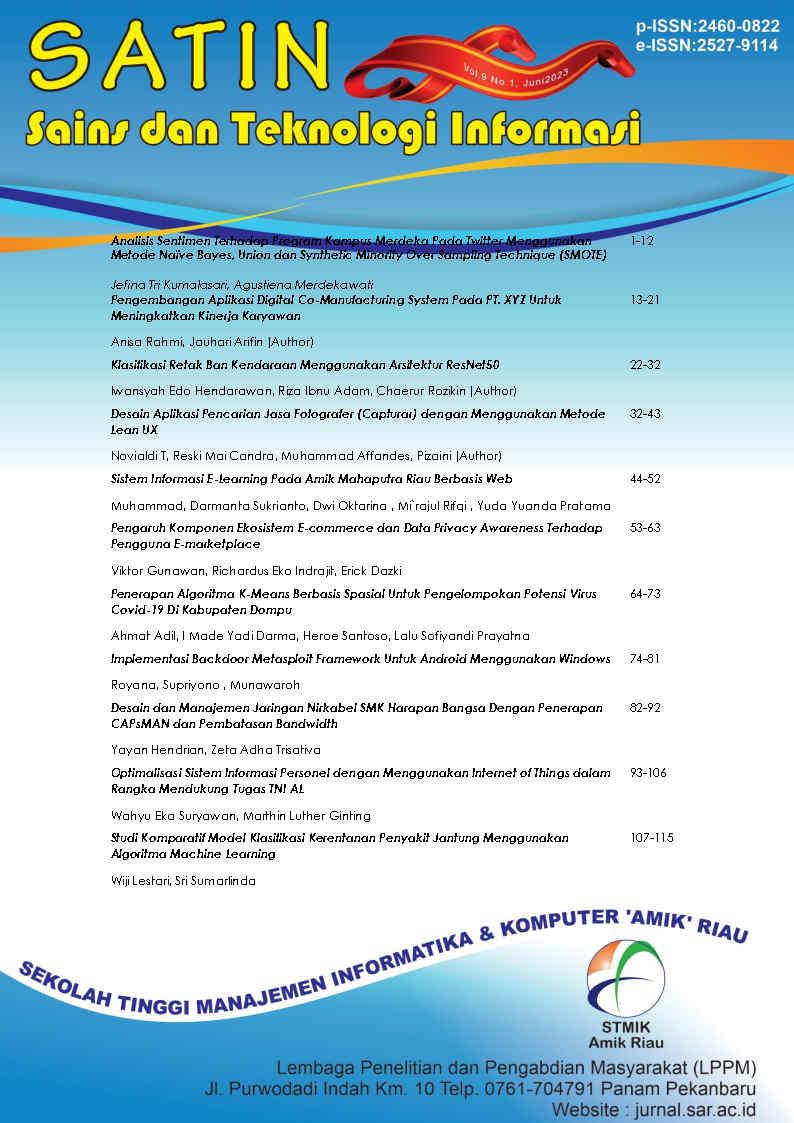 How to Cite
Hendrian, Y., & Zeta Adha Trisativa. (2023). Desain dan Manajemen Jaringan Nirkabel SMK Harapan Bangsa Dengan Penerapan CAPsMAN dan Pembatasan Bandwidth . SATIN - Sains Dan Teknologi Informasi, 9(1), 82-92. https://doi.org/10.33372/stn.v9i1.864
Copyright (c) 2023 Yayan Hendrian, Zeta Adha Trisativa (Author)
This work is licensed under a Creative Commons Attribution 4.0 International License.